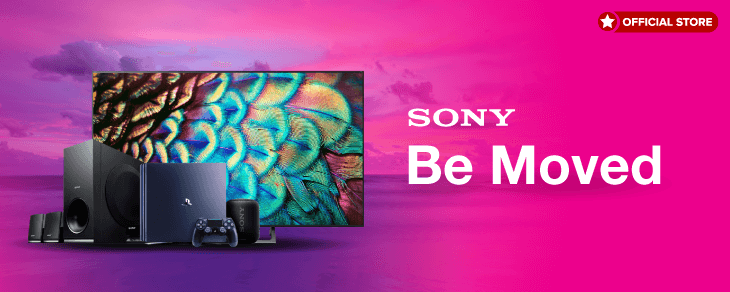 Highlights:
Bring the party! Add impact to all your music with high power and soul shaking bass

Speaker lighting and customisable party lighting that change colour and sync to the beat

Party Features! Motion Control via Fiestable application, DJ effects, 2 x Mic input for Karaoke

Multi-source playback. Bluetooth and NFC for simple one-touch connectivity. Easily connect to your TV with HDMI connection. CD, DVD, USB (REC & Play), FM Radio, Audio IN (RCA), Audio output

Guitar input lets the SHAKE-X30D serve as guitar amp and speaker
---
From the manufacturer
Sound pressure horn for noticeable bass.

Let yourself be carried away by tremendous bass thanks to the sound pressure horn. The folded horn design inside increases sound pressure as the sound is fed through an amplifier tube. The result is far more effective than traditional amplifier and signal processing technologies with higher energy consumption and ensures that you feel every bass.

An even higher quality Bluetooth transmission thanks to LDAC.

LDAC is a new audio technology from Sony, which allows you to enjoy high-quality wireless audio streaming via Bluetooth. Thanks to the transfer of up to three times the amount of data, LDAC enhances the listening experience for all your music.

LED lights on the speaker create party atmosphere.

Add some party flair with LED speaker lighting just like in the club. The LED speakers feature numerous colour patterns from pure white to rainbow colours. They shine in the rhythm of music and adjust brightness and speed to the current music style and mood.
With DJ effects, you can add your own track with your own note.

Bring the mood to cooking with DJ effects. With four different effects, you can really heat up your party: A flanger produces a fluctuating sound, the WAH effect distorts the audio signal, the isolator highlights a certain frequency band and with PAN the sound changes between the speakers. Through the Fiestable app and gesture control, you can easily access DJ effects and add a creative touch to your party playlists.

Karaoke Sing-along Functions

Nothing easier than a karaoke competition with your friends: Simply connect the SHAKE-X30D to a TV and insert a karaoke DVD to sing along your favourite songs loud. With two microphone inputs, song reservation function, karaoke rating and echo effects, nothing stands in the way of a vocal duel with your friends. An integrated vocal fader dampens the voices on the CDs, so you can sing your favourite songs with you undisturbed.

Guitar input.

With the guitar input, you can play your own mini concerts. Simply plug in and press the guitar button, and you can create powerful guitar sound. You can also connect a microphone and sing to it.
HDMI input for easy setup

The system can be easily connected to the TV. So you can enjoy a rich, powerful sound with all movies and music. Thanks to the HDMI connection, a single cable is enough.

Enjoy your movies via a built-in DVD player

View your DVDs on the built-in player of the SHAKE-X30D. Experience any explosion, action sequence, or dramatic scene in impressive cinema surround sound that will take you in the middle of action. Turn your living room into a cinema room and enjoy exciting movie nights.

Seamless transmission with NFC and Bluetooth technology.

NFC (Near Field Communication) and Bluetooth technology eliminate the need for cables and complicated setup. Simply touch the SHAKE-X30D with your NFC-enabled device to create a fast, seamless connection and transfer your music collection. No NFC available to you? No problem. Simply connect via Bluetooth and off you go.
Combine all your music tracks with Sony | Music Centre

Download Sony | Music Center (formerly SongPal) for your smartphone or tablet, because this will help you have your music collection under control. Simply connect via Bluetooth to play all your favourite music. The app can also be used to adjust sound settings to ensure excellent and balanced audio quality.

USB ports for easy plugging and playback

Do you want to copy music tracks from CD to USB? Nothing easier than this: Simply connect your device to the port for recording and playback. When recording directly to USB, you can increase the standard bit rate from 128 kbps to 256 kbps to further optimize audio quality.

Audio input to expand your sound system

Get the most out of your home audio system. Thanks to two RCA inputs, you can connect a TV or power a game console.
Built-in CD player for your CD collection.

Playback classic albums or mix CDs with an integrated CD player This home audio system is compatible with CD, CD-R and CD-RW. This allows you to enjoy everything from studio recordings to mixtapes to downloaded tracks.

FM radio tuner for your favourite shows

Want to listen to your favourite DJs? Simply turn the wheel for FM radio to hear what's running.