T.D.S (Triple Distribution System)
Efficient emission of microwaves translates into better cooked food. TDS is new technology from Samsung aimed at cooking food more evenly. Samsung has long been working to develop a unique wave distribution system that evenly distributes the microwaves throughout the oven. Models with this new wave distribution system will bring the benefit of more even cooking to a customer unhappy with the performance of their old microwaven oven.
Power Defrost
Brilliant features of Power Defrost make it easy for you to vaporize the ice flower quickly and evenly, so that the food does not become soft. Rub the ice flower from frozen food until it is served in a fresh state, and you and your family can enjoy delicious food whenever it is.
Ceramic Inside
This microwave is equipped with Ceramic Enamel Interior. So you don't need to worry when cleaning oils that might be in the inner layer, because it will be easy to clean, and the appearance will be even more beautiful.
Luxurious Stainless Steel Design
Comes with a stainless steel design that makes it look luxurious and classy and adds to the beauty of your kitchen.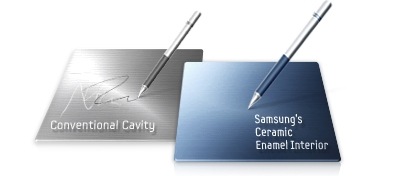 Always at it's wow-it-looks-brand-new best
Microwave Samsung is coated with Ceramic Enamel which makes it durable, anti-bacterial and scratch resistant unlike stainless steel or easily broken plastic material. Besides cleaning up is easier, no matter how your family uses it, all you need is a damp cloth to remove any kind of splash that might be present.