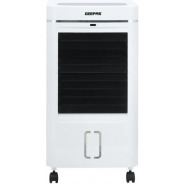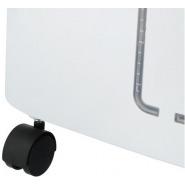 Highlights:
Geepas | GAC9433 Digital Air Cooler, Air Cooler with Remote Control, GAC9433N | 3 Fan Modes | LED Display | Wide Angel Horizontal Oscillation | Timer Function | 2 Ice Box | Portable Air Cooler

Air cooler with remote control; With LED display; High performance motor

Wind speed can reach 12 m/s; Built in 0-24 hours timer

3 fan modes: normal/natural/sleeping. 3 speed for each mode

Automatic wide angel horizontal oscillation and manual vertical adjustable wind

With filter humidifying function and tank force and water compatible

Water limit protection switch and unique imd molding process

Ice box holder in water tank; With 2 ice box for ice cooling system

Strong casters for easy moving

HIGH PERFORMANCE MOTOR – Built with high-quality powerful motor provides long-lasting usability. Running for long hours per fill, then it pulls warm air from the room through its water filter and fills any space with cool and good quality breathable air.

ADJUSTABLE SPEED – The unit has 3-fan mode to choose from: normal/ natural/ sleeping with left-right swing or up-down wings so you can find the ideal breeze to help keep you refreshingly cool on a hot summer day. As evaporative cooling is a natural process, it uses barely any electricity – this model uses just 75W, so it's cheap to run.

LIGHT AND PORTABLE – Air coolers work best when positioned near an open door or window. This means you'll need to move them around to get the most out of them. That's why this model is designed to be as lightweight as possible and is fitted with castors so you can wheel it around wherever it's needed. If you have a single air cooler that you want to move around several rooms in your home or office, this is a useful feature!

ICE PACKS – Evaporates cool water through the water filter without needing to ventilate out of the window. The dual ice packs improve cooling performance to expel ice-cold air and moisture into your room. Trap pollutants whilst breezing out clean air with cool water vapors to make the air less dry thus improving your skin and sleep. It also comes with a water filter system.

STYLISH DESIGN – This sleek and stylish air cooler looks great in any décor. It'll look great at home in your bedroom, living room, or even the office. Its compact size enables it to fit snuggly into tight spaces – perfect for any room in the house where space is less.