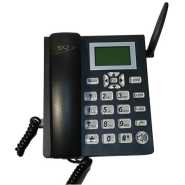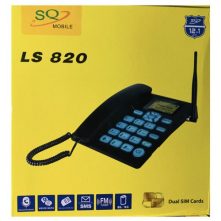 Highlights:
The GSM Wireless Desktop Telephone support 2 SIM card(Not included) with a working frequency  GSM 900/1800 MHZ. Easy to setup with no ground wire needed. Phone has a superior service quality with a strong Easy & Simple to Use: Can be put on desk or wall mounted. Widely used in family house, office, hotel or telephone shops etc.
Buy New Mobile Phone via TilyExpress
Nowadays, having a mobile phone became an essential thing, that's why TilyExpress offers a whole catalog of smartphones and cell phones from all brands. If you're dealing with a slow phone, then it's time to buy a new one from TilyExpress. You can find all types of mobile phones at our website with the quickest delivery to your doorstep or any place you pick. Do you want to buy a new mobile phone? Browse through the TilyExpress website on which you can get Samsung phones, Huawei phones, Nokia mobile phone, Apple mobile phone, Xiaomi mobile phone, Tecno mobile phone, in addition to many other brands.
A Huge Variety of Mobile Phones!
Get a smart mobile phone from TilyExpress at special prices without the need to move from your place because all our products are available online. Buying a new mobile phone isn't enough because you need all the accessories that allow you to enjoy its amazing features. TilyExpress provides a whole collection of mobile accessories that suit all types of mobile phones such as screen protectors, covers, cases, chargers and adapters. Get Android mobile phones or Apple iPhone from TilyExpress online.
Get Smart Mobile Phone Now
Buy Apple iPhone from TilyExpress which provides all versions of iPhones such as iPhone 6, iPhone 7, iPhone X and iPhone 11. If you want to enjoy a professional camera, a fast processor and amazing features, get a new iPhone from TilyExpress at great prices. You can also check our collection of Android mobile phones.