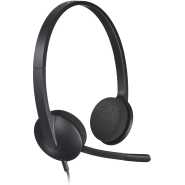 Highlights:
Versatile headset: Great for Internet calls and listening to music from your Mac or Windows computer

Plug-and-play USB connection: Simply plug the headset into your PC for quick and easy stereo audio

Clear digital sound: Pure USB digital audio for crystal clear music and calls

Rotating boom microphone: Reduces background noise for clear chats, rotates up and hides away when you're listening to music

Comfortable design: Lightweight adjustable headband and foam ear cups for a feel-good fit
Best Headphones and Earphones Today
Order Best Earphones Online
Headphones are a pair of small loudspeakers worn over the head, while earphones are worn in the ear. TilyExpress Uganda stocks a vast selection of earphones and headphones ranging from wireless headphones to Bluetooth headphones. Shop for the best earphones and headphones from brands such as Samsung, Honor, Huawei, Lenovo, Sony and Logitech. Order for your headphones or earphones now and have them delivered to you within the shortest time possible.
Buy Earphones and Headphones via TilyExpress Uganda
Check out our huge collection of headphones, carefully selected to cater to everyone's needs. We have noise canceling headphones, ideal for gamers to enable them to enjoy all the gaming sound effects without interference from the outside noise. Check out the best Bluetooth headphones that easily pair with a phone or a computer. Wireless earphones are cord-free which is great since you don't have to struggle to try to disentangle them. Others include earphones with mic and headphones with mic, also good for gamers and running headphones for sports personalities.
Shop Best Wireless Headphones on TilyExpress UG
Shop for headphones and earphones on TilyExpress Uganda, browse through the site for noise canceling earbuds and over ear headphones. To find the exact headphones or earphones, filter using brand, ratings, and price. Shop now and pay securely online or cash on delivery.