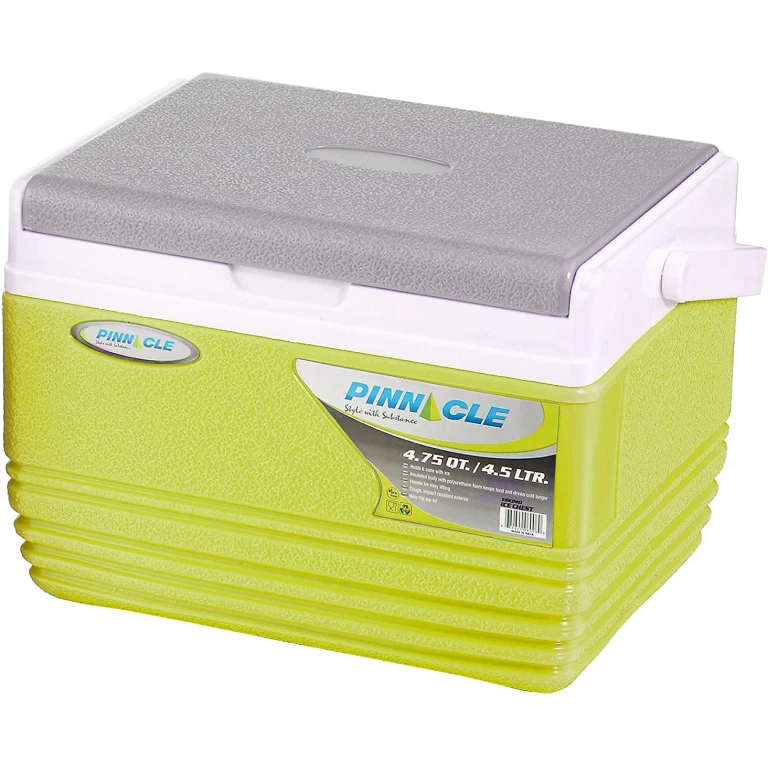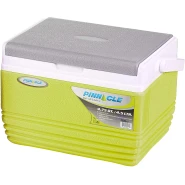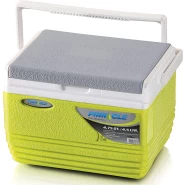 Highlights:
 Pinnacle Ice Cooler Box with Soft Touch Handle Keeps Cold Upto 48 Hours (Eskimo Green 4.5L). 

TECHNICAL SPECS: 1. Double Layer Strong Insulated Body 2. A 20 mm PolyUrethane Foam 3. Tough & Impact Resistant Exterior 4. Ice Box is FDA Approved and BPA-Free and therefore safe to even store open food or fruits/veggies. Basically, Pinnacle Prudence 11 L is a Perfect Solution to keep Food, Drinks & Refreshments cold for a longer period.

PERFECT FOR: Pinnacle Prudence 11 L is ideal for both Indoor and Outdoor Usage. It's Leak Proof for Better Use Experience. OUTDOOR USE: Picnic, Beach, Parties, Camping, BBQ, Sports, etc. INDOOR USE: Restaurant, Bar, Hotel, Café, Banquet & Catering, etc.

DESIGN: Pinnacle Prudence 11 L Ice Cube box is designed with Premium Insulation Technology which holds the ice for 48 hours and keeps the content cold. HANDLE: Smart Trolley Style Handle with Wheels. DRY LID STORAGE: To keep Personal Accessories. CAN SLOT: Can Slot on Lid to Hold 4 Cans/ Other Accessories

CAPACITY: This Ice box is large enough to comfortably hold 45 cans with Ice. WARRANTY: 1 year to cover any defects in material and workmanship. DIMENSION: 35.8 cm * 28.5 cm * 23 cm. COUNTRY OF ORIGIN: Proudly "Made in India" and Exported to 80+ Countries.

PINNACLE BRAND: An Indian Brand famous across the world for its premium thermoware products. Being present in more than 80 countries, Pinnacle has been awarded as the "Best Exporter" for 8 consecutive years by the Indian Government.