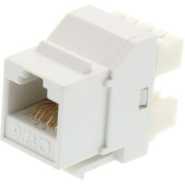 Highlights:
Cat6 UTP RJ45 Keystone Jack Module – White.

Cat6 keystone Jacks are designed for easy installation and are universally wired for 568A and 568B wiring schemes.

Our cat6 keystone jacks are RJ45 8P 8C 50u and suitable for 22-26 AWG stranded and solid wire.

Meeting the international standard ISO / IEC 11801 and the ANSI / TIA-568-C.2 requirements, these RJ45 keystone jacks provide an excellent solution for your Ethernet networks.

Easily snap in and out of patch panel, and surface boxes or other application.