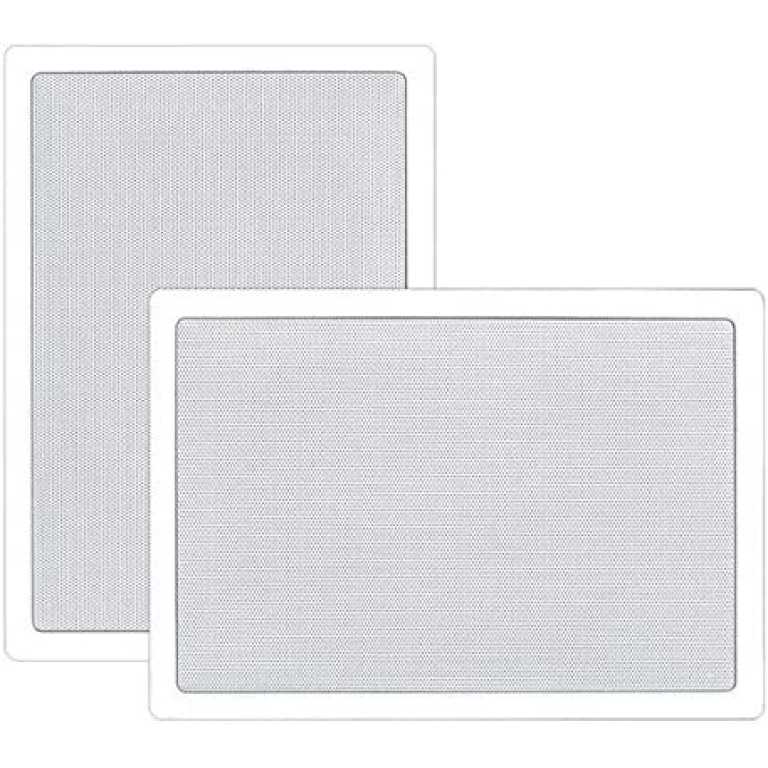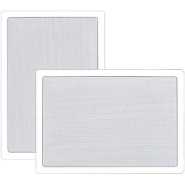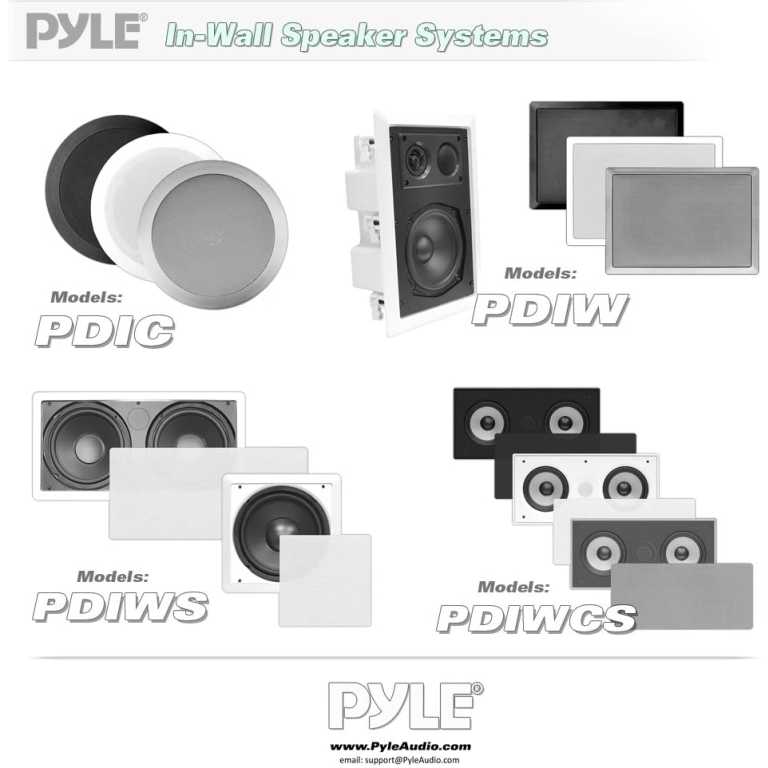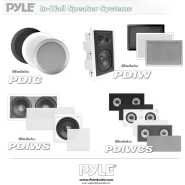 Highlights:
Pyle Two Way Stereo Sound Wall/Ceiling Speaker. 

200-watt power: This White high powered Audio projection speaker system by PYLE home has a maximum power output of 200-watt peak power/ 100 Watt RMS so you can play your favorite tracks as loud as you want and with style

6.5″ Midas, 1/2″ Tweeter: the dual speaker is equipped with 6.5″ Midas and high performance 1/2 inch polymer tweeter with 1" High-temperature voice coil for full range surround stereo sound reproduction and impressive bass response

70 he – 20 kHz frequency response: This 2 way stereo sound speaker pair has a frequency response of 70Hz – 20kHz to achieve wide range sound performance and the convenient speaker terminal allows quick and hassle-free speaker wire Connection

4-8 ohm impedance: This in wall/ in ceiling speakers features 4-8 ohm impedance rating and has an impressive power handling capability to withstand long hours of playtime. It ultimately reduces distortion so you can enjoy a crisp and clear sound

Wall/ ceiling mount: includes cut-out template for easy installation and mounts flush on walls or ceilings to deliver stereo sound for home theater or office without cluttering floor space. Perfect for custom installations and applications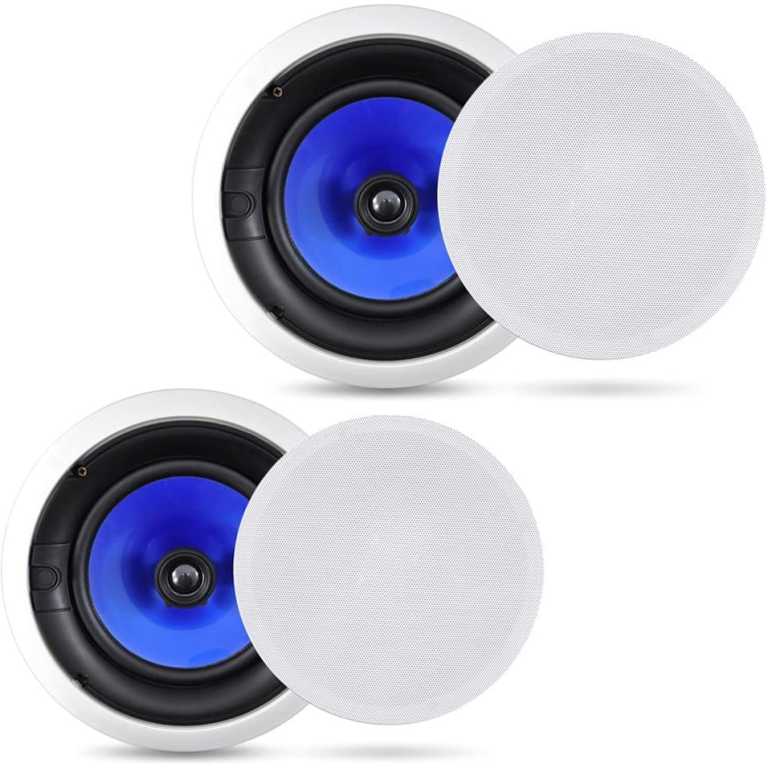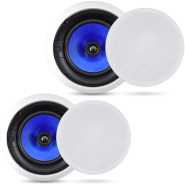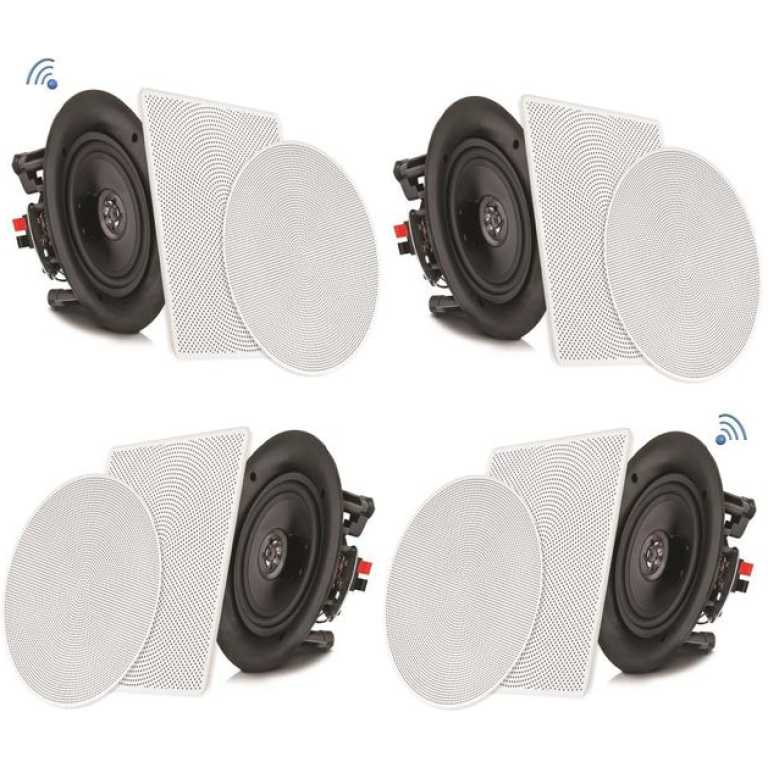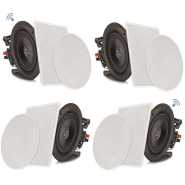 Highlights:
Pyle 2-Way In-Wall In-Ceiling Speaker System – Dual 10 Inch 300W Pair of Ceiling Wall Flush Mount Speakers. 

AMPLIFY YOUR HOME: PyleHome's 300W 2 way wall mount speaker system is what you need to listen to high quality audio at home, office, studio and even commercial spaces Includes (2) 10″ two way inwall / inceiling speakers and mounting cut out template

300 WATT PEAK POWER: These new white high performance stereo sound speakers kit have 150 watt RMS with 300 watts peak power. Features a frequency response of 35Hz 20kHz with 8 ohms impedance and is equipped easy connect / disconnect speaker terminals

SUPERIOR SOUND: The speaker system features 1.0″ silk dome pivoting voice coil tweeters and 8″ poly cone full range mid bass type for a full range stereo sound reproduction. It also features integrated mounting hardware for easy installation

ADJUSTABLE TREBLE CONTROL: The Pyle dual 8 in ceiling speakers feature adjustable treble control switch (+3dB, 0, 3dB) helps deliver a more full, rich sound. Total speaker diameter is 10.6″ w/ 9.4″ cutout, 3.9″ speaker depth and 3.7″ mounting depth

MOUNTS ON WALL/CEILING: Set of 2 mountable 8 inch ceiling speakers are made from environment friendly ABS and urethane film laminated cloth construction. Features flush mount design to be mounted on walls or ceilings. Perfect for custom installations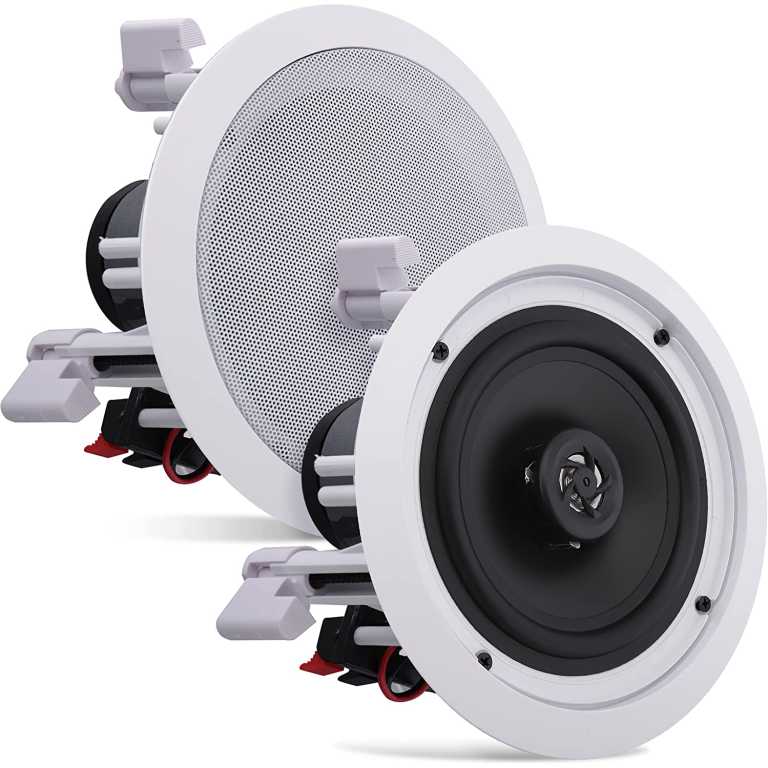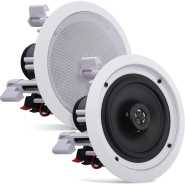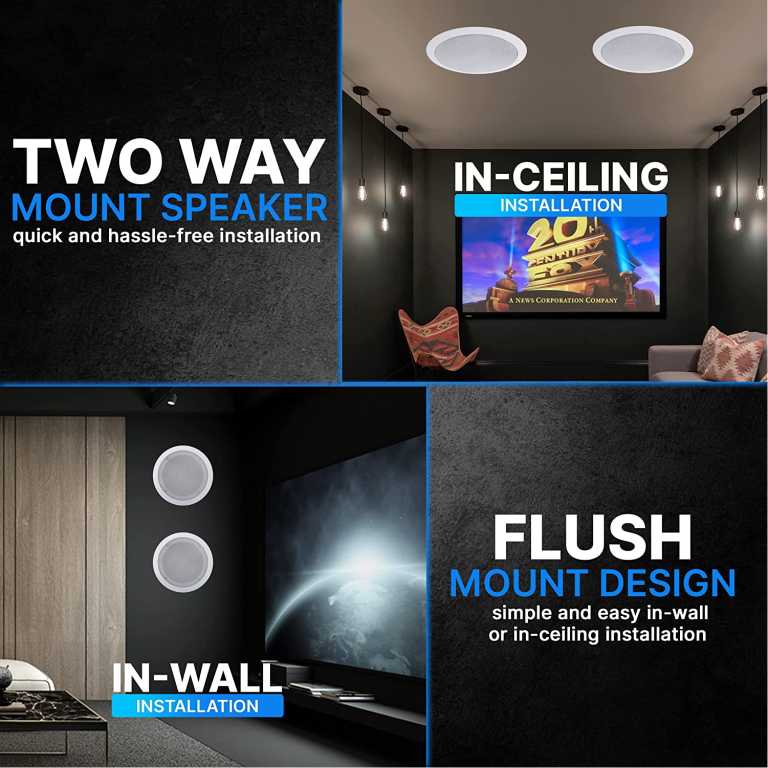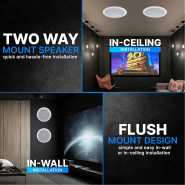 Highlights:
Pyle Pair 6.5" Flush Mount In-wall In-ceiling 2-Way Home Speaker System.

SEAMLESS INTEGRATION – Perfect for existing home theater systems this Pyle 2-way in-ceiling or in-wall speaker system delivers incredible stereo sound to any room in your home from speakers you can barely see without using any floor or shelf space

EASY TO INSTALL – Includes a cut-out size template and quick connect spring-loaded speaker terminals for simple, easy, no hassle installation, in any room, delivering a full rich sound without cluttering floor space

SPEAKER GRILL – Built in round stain resistant speaker grills. Match existing flush mounted designs in your home or workplace for a clean look & achieve wide-range sound performance without compromise

FLUSH MOUNT DESIGN – Compact flush mount design for simple easy installation in-wall / in-ceiling , or pre-cut speaker openings, for in home use, office, professional, or custom audio applications on any flat surface

HIGH QUALITY – Pair of 6.5" reinforced polypropylene cones with suspension cloth & 1/2" High Compliance Polymer Tweeter. Enjoy a more consistent & enhanced sound field with full range stereo surround sound reproduction