Equipped with Power Marathon Technology and 6000mAh battery, HOT 10 PLAY gives you the freedom to explore your phone without recharging.
Power MarathonAfter 120 days of development and commissioning, the Infinix Team launched Power Marathon Tech. There are two modes for this Tech: "Power Boost" and "Ultra Power Mode", which meet the users' demand for battery life on the premise of not affecting user experience.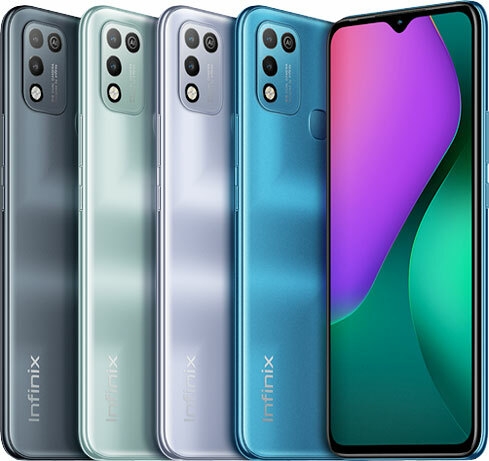 When battery is down to 5% of the full capacity, turn on the Ultra Power Mode provided by Power Marathon Tech, this adds 19 additional hours of battery life which can support 2.7 hours of calls.
Taking Game Experience to The Next LevelFeaturing the awe-inspiring MediaTek Helio G35 Octa-core chip – the power to redefine the entertainment and audio/video experience of smart phones. HOT 10 PLAY meets your expectation for an extremely smooth video playing and game experience.
Vivid Image, Wider ViewA Display that Evokes All of Your Senses Larger screen and wider view. 6.82″ Video Playing Display + 90.66% screen-to-body ratio. Enjoy the ultimate cinematic visual experience anytime, anywhere.The slim display with the perfect aspect ratio of 20.5:9 enables superb single-hand operations.

Magic AI Portrait
Turns Every Picture into A MasterpieceEquipped with 8MP AI front camera + 13MP AI dual rear camera and a powerful AI algorithm, Hot 10 PLAY provides portrait blurring that enhances the focus of every picture, in the best way possible
AI Beauty EnhancementLet Beauty be Seen and ShineAI portrait enhancement helps create the most natural and beautiful portrait shots – no matter if it's the front angle or side angle of a subject.