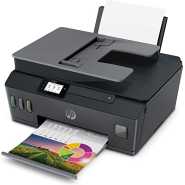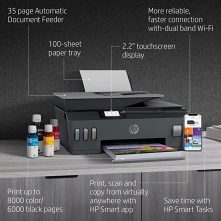 Highlights:
HIGHLY AFFORDABLE WIFI PRINTER FOR YOUR PRINT, SCAN AND COPY NEEDS : With integrated ink tanks and an automatic ink sensor, you get a compact, spill-free refill system that makes it easy to manage ink. Up to 8,000 colour or 18,000 black pages are included. 

HIGH VOLUME, LOW COST PRINTING: Print worry-free at 10p for Black and 20p for Colour 

WORRY FREE DUAL BAND WIRELESS: Get better range,faster and more reliable connections using dual band Wi-Fi.Print, scan, and copy from anywhere with the best-in-class mobile print app: HP Smart. 

RELIABLE CONNECTIVITY : High-speed USB 2.0 Connectivity, Wi-Fi , Bluetooth LE 

INCREASE PRODUCTIVITY WITH AUTOMATIC DOCUMENT FEEDER: This all-in-1 printer's 35-page automatic document feeder helps you breeze through scan and copy jobs quickly 

CONVENIENT INK MANAGEMENT: Easy to fill integrated ink tanks lets you see how much ink you have left. With newly designed ink bottles specific for each colour it's easier than ever to fill and refill. 

QUICK MOBILE SETUP WITH HP SMART APP: Use a smartphone or tablet to set up your printer and connect to your local wireless network. Bluetooth LE delivers a hassle-free experience, so you can start quickly
By definition, a printer is an electronic data output device that represents the desired content or a set of values on a physical plane, which in most is paper. These printers can be classified to different types depending on the printing technology in use or on the basis of their secondary functions. Based on their functionality, there are advanced models of printers that are capable of highly useful secondary functions like scanning, copying, fax and even email. These multi-tasking print units are referred to as MFV or Multifunctional Printers or Peripherals.
These multifunctional printers come with a host of features like high tray capacity and borderless printing, making them immensely useful in a gamut of situations and environments, be it home, work or school. The print capability on these multifunctional printers is just as good as or even better than the elementary desktop printers, with some printers capable of crystal clear photo print. These photo printers often have a bright mini LCD display to preview the photo that you intend to print. Some of the highly advanced multifunctional printers, with their list of functions are significantly larger than your regular desktop printer and therefore are not easily portable. But there is a new wave of smart and sleek portable units as the convenience factor is of relatively high importance in today's world.
Now, enjoy the power and freedom of online shopping with TilyExpress' revolutionary online store which has an amazing collection of multifunctional printers. With TilyExpress, you can browse, compare, select check for discounts and make the order online using a secure method payment like credit cards, debit cards or net banking. You can also choose to pay through the incredibly convenient COD or cash-on-delivery method, which requires you to pay only after the ordered product is safely and promptly delivered to a location of your choice.