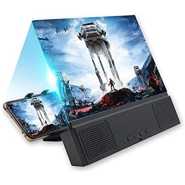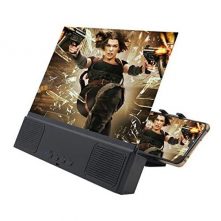 Highlights:
【Screen Magnifier with Speaker】This is a 12-inch large-screen mobile phone screen magnifier with Bluetooth speaker.Magnifying your phone screen 2-3 times to avoid uncomfortable and visual fatigue.Added a Bluetooth speaker to solve the problem of small phone sound.
【Cell Phone Stand】The screen magnifier has a personalization function, which can be installed with a frame, and the fixed clip is designed at the mobile phone card position of the magnifying glass. The fixed clip can hold the mobile phone with a screen of 6 inches or less. When the frame is used, the fixed clip needs to be activated to prevent the mobile phone from falling.
【3D Ampifier for Smartphones with 2 Charging Methods】Users can purchase a 18650 battery installation by yourselves. When you install the battery, you can take it out and look at it whenever you want. You can also charge the mobile phone as an emergency mobile power source. Or plug it directly into the power cord and turn it on immediately.
【HD Screen】The lens is made of Fresnel optical Alec HD lens, which makes the viewing effect vivid and full of three-dimensional. The outer casing is made of ABS material, which is environmentally friendly and harmless to the human body.
Black in color.