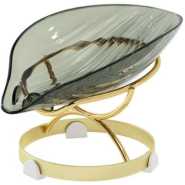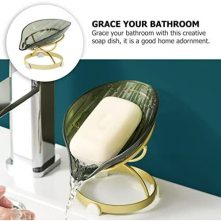 Highlights:
Anti-slip:3 strong suckers on the bottom, will not slide easily.
Hollow:Bottom hollow out design
Unique Leaf Shape: Convenient decor for bathroom and kitchen use
Suitable size,placed in the corner  of the bathroom and cabinet.
Premium Material: Made of high- quality APET, iron, silicone, Stylish and beautiful, Durable, and long service life.
Leaf Shape Soap Holder: Our bar soap holder is different from the ordinary soap holder, we adopt the leaf shape design, which makes water flows down naturally and keeps the soap dry all the time. With the Innovative design, our soap dish will make your room beautiful and improving life quality.
Self Draining Soap Dish: 45° oblique design helps water flow down and texture on the soap dish surface keeps soap ventilate, making your soap dry naturally and not softening.
Multi- Soap Dish Holder: can be placed in the table, bathtub, sink, bathroom, kitchen, kitchen sink, shower soap tray and other places. It will look great in any home!