Power Extension Cables
Showing all 27 results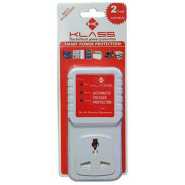 Highlights:
Klass TV Guard, Power Surge Protector (2 years warranty).
Protection from over-voltage, under-voltage, over-frequency, under-frequency, momentary interruption, loose connection, and power spike/surge.

Fridge Guard
TV Guard
Power Guard
Power Surge Protector
Online Shopping for GenuinePower Extension Cables in Uganda. 
Select from our wide range of GenuinePower Extension Cables TilyExpress. With our comprehensive collection of Power Extension Cables, you will likely find just the one that is suitable for you at the best price. All our Power Extension Cables carry not less than a 1-year warranty. Place your order and have your Power Extension Cables Delivered right to your doorstep anywhere in Uganda. Enjoy Same day delivery in Kampala, Mukono & Wakiso, and Next-day delivery in other districts. 
Buy QualityPower Extension Cables  At the Best Prices in Uganda. 
On TilyExpress, you can find the best quality Power Extension Cables at the best price in Uganda. Enjoy hassle Free 7 days returns and replacements. 
Need Help in Finding the RightPower Extension Cables3121qqq? Shop With Our Live Experts. 
Please chat with our independent product experts to get answers to your product questions and special offers on Phones.