The world's first dual docking audio system
The Samsung Audio Dock is a part of your entertainment system that you can rely on. As the world's first dual docking system, users can enjoy their music from various smart devices such as the Samsung Galaxy S II and Galaxy Note, or other products such as the iPhone and iPod. This flexibility simplifies your audio set-up band also saves you the hassle of having to buy various audio systems that match your particular smart devices. * Samsung Audio Dock App is required for Galaxy devices.
Make the most of Samsung Audio Dock App features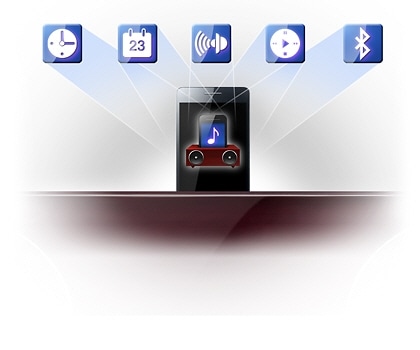 Download the Samsung audio app and play music from Galaxy devices and access a range of useful functional features. You can check battery level, find out what the time is and hear reports of the weather and even the current temperature. Bluetooth enabled Android devices benefit from auto pairing, which makes streaming and enjoying your various music collections nice and easy. The app can also remember where your music stopped playing after being disconnected for a phone call, and will then play from that very same spot when reconnected. *Certain Android devices will not be able to use this application due to firmware compatibility issues.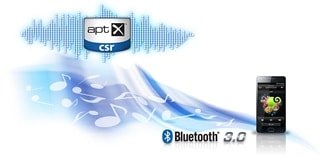 Enjoy fast and high-quality music
With the benefit of Bluetooth 3.0 and the superior apt-X codec, transferring music no longer means a loss of quality. The Samsung Audio Dock allows for faster streaming of data without losing the original sound quality, which is usually the case with file compressions. The highly regarded Bluetooth 3.0 and apt-X technology prevents this from happening, and even allows CD quality music to be sent. So, if you are serious about your transferred sound quality, Bluetooth 3.0 with apt-X technology is a must have feature.
















Play music directly from USB sources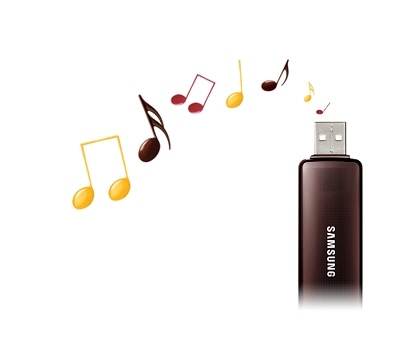 Make sure you can access all your music – including via digital formats. This means that you can now play songs directly from USB memory sticks. Make the most of MP3, WAV and WMA audio files with professional-grade sound.