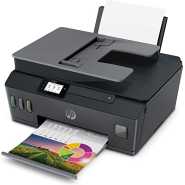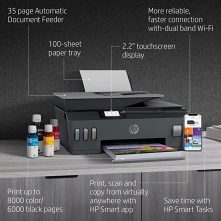 Highlights:
HIGHLY AFFORDABLE WIFI PRINTER FOR YOUR PRINT, SCAN AND COPY NEEDS : With integrated ink tanks and an automatic ink sensor, you get a compact, spill-free refill system that makes it easy to manage ink. Up to 8,000 colour or 18,000 black pages are included. 

HIGH VOLUME, LOW COST PRINTING: Print worry-free at 10p for Black and 20p for Colour 

WORRY FREE DUAL BAND WIRELESS: Get better range,faster and more reliable connections using dual band Wi-Fi.Print, scan, and copy from anywhere with the best-in-class mobile print app: HP Smart. 

RELIABLE CONNECTIVITY : High-speed USB 2.0 Connectivity, Wi-Fi , Bluetooth LE 

INCREASE PRODUCTIVITY WITH AUTOMATIC DOCUMENT FEEDER: This all-in-1 printer's 35-page automatic document feeder helps you breeze through scan and copy jobs quickly 

CONVENIENT INK MANAGEMENT: Easy to fill integrated ink tanks lets you see how much ink you have left. With newly designed ink bottles specific for each colour it's easier than ever to fill and refill. 

QUICK MOBILE SETUP WITH HP SMART APP: Use a smartphone or tablet to set up your printer and connect to your local wireless network. Bluetooth LE delivers a hassle-free experience, so you can start quickly
HP Printers – Built to Provide Optimal Results in a Flawless Manner
Most data stored in a computer gets printed whenever the situation arises. HP printers are made of cutting-edge and trusted technology. When it comes to colour printing, you can be assured of sharp quality prints with natural-looking colours. The various types you can choose from include Inkjet, Ink Tank, and Laser printers. Some of the stunning models include the Smart Tank 530, LaserJet Pro MFP M126nw, 1200a (Part Number -4QD21A#ACJ), LaserJet (Part Number -CE849A#ACJ), and DeskJet Ink Tank GT 5821 (GT Series). You can avail various functions like scanning, faxing, copying and printing across different models. The HP printers price in India is dependent on the distinct features of the various models. The preferred choice of most households is the inkjet variety. You can find these being utilized across a few commercial premises too. One of the most popular variants used in homes is the all-in-one or multifunctional model. You can avail of coloured as well as black and white printouts. These are capable of copying, scanning, and even printing. The Photo inkjet variety is ideal for photographers. This has highly impressive photo-printing capabilities. It offers you different sizes of prints and also gives innovative prints from a smartphone or even a tablet. You can get colour as well as black and white prints from the single-function inkjet variant. This is very simple to use and ideal for homes. Explore the web to get an insight into the wide range of these devices before you decide to buy HP Printers. You can check and compare the various HP Printers (offers) online.
Browse the Internet to Discover the HP Printers Price in Uganda
The Laser models of HP Printers include the colour and monochrome variants. Some of the other interesting models from this brand include the portable, A3, and large format. The portable variety can be carried with ease and provides high-quality borderless prints. This is Bluetooth enabled and can produce very compact prints directly from your tablet or smartphone. The nifty A3 paper model can furnish you with prints of large-sized documents and presentations flawlessly. The large format is ideal for printouts of large-scale projects more suited to industries or high-end advertising. These varying features make the HP printers price in India vary accordingly. The HP Smart Tank 530 model comes with an automatic document feeder which allows you to print, copy or scan speedily without manual input of paper into the machine. You can monitor the ink tanks and refill whenever required. This has a wireless connectivity which enables you to print images from your mobile with ease. This model assures you of vibrant colourful prints and crisp text across every printout.
Get an Insight into the Innumerable HP Printers Offers Online
You can find the various models of HP Printers in aesthetic designs. Their versatile features make them a popular choice amongst most users and commercial premises. You can spend some time on the internet to get detailed information before you decide to buy HP printers online.
Question and Answers
Q.Can the HP printer be used to scan the documents that are to be printed?

A.Yes, the 

printer

 can be used to print, copy, and scan documents in a convenient and hassle-free manner.

Q.Are HP printers too heavy and difficult to carry around?

A.No, 

HP printers

 are not bulky. They come in a variety of weights and sizes, and they range from 4 to 10 kgs in weight, depending on the model of the printer.

Q.What are the different types of HP printers available?

A.HP offers a wide range of printers to select from, like multifunction printers, laser printers, inkjet printers, all-in-one printers, etc.

Q.Do these printers offer wireless support?

A.HP offers several types of printers. Some models provide wireless support, and some do not provide it. Please check the features of the printer which you intend to buy.

Q.In what colours are these printers available?

A.These printers are available in a wide variety to choose from, like white, black, and grey colours with different designs, which you can match with your office or home decor.

Q.Are HP printers compatible with home usage?

A.Yes, you can use HP printers at home for several purposes, including printing your kids' craft projects, homework, and other project work and printing high-quality images for their assignments.

Q.Do HP printers support voice-activated printing?

A.Yes, Smart Tank 530 multifunction Wi-Fi colour printer, HP ink tank wireless 415 all in one multifunction Wi-Fi colour printer, etc., support voice-activated printing. However, this feature depends on the model of the printer. So, it is best to check before buying.

Q.Which paper sizes can the printer accommodate?

A.An HP printer can accommodate different paper sizes as per your need, such as A4, A6, B5, etc., and it varies according to the model of the printer.

Q.Are HP printers suitable for office use?

A.Yes, HP printers support high-volume printing and can be used to perform tasks like document creation and management, billing, branding, etc., required at the workplace.

Q.Is it advisable to unplug the printer when not in use?

A.No, do not unplug the printer when not in use, as the printer performs ink maintenance which requires ink. Instead, just let it go into sleep mode.