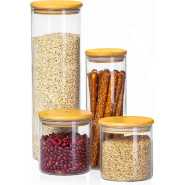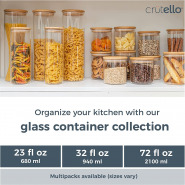 Highlights:
MODERN MULTI USE STORAGE JARS – Made from sustainable materials these bamboo wooden lid glass storage jars allow you to easily store dry goods on your counter or in your pantry in a neat and organized fashion that will perfectly blend in with your kitchen.

HIGH QUALITY GLASS – Each glass container is made of food-grade high quality glass, durable glass that can stand up to the wear and tear of your kitchen, glass can withstand temperatures from -4 degrees F to 300 degrees Fahrenheit

AIRTIGHT SEAL – A non toxic silicone ring around the wooden lid provides an airtight seal to keep whatever you store inside the jar fresh and safe. Containers hold 54 fluid oz (6 3/4 Cups), 32 fluid oz (4 cups), and 23 fluid oz (2 3/4 Cups)

STORE KITCHEN ESSENTIALS IN STYLE – Achieve your pantry goals by easily storing your kitchen go-tos, whether it is pasta, flour, sugar, coffee, cookies, salt, or spices our glass storage jars will help you cut back on the clutter!

FREE LIFETIME WARRANTY – Crutello stands behind all of its kitchen accessories 100%. If anything ever goes wrong with your glass jar, feel free to contact us.